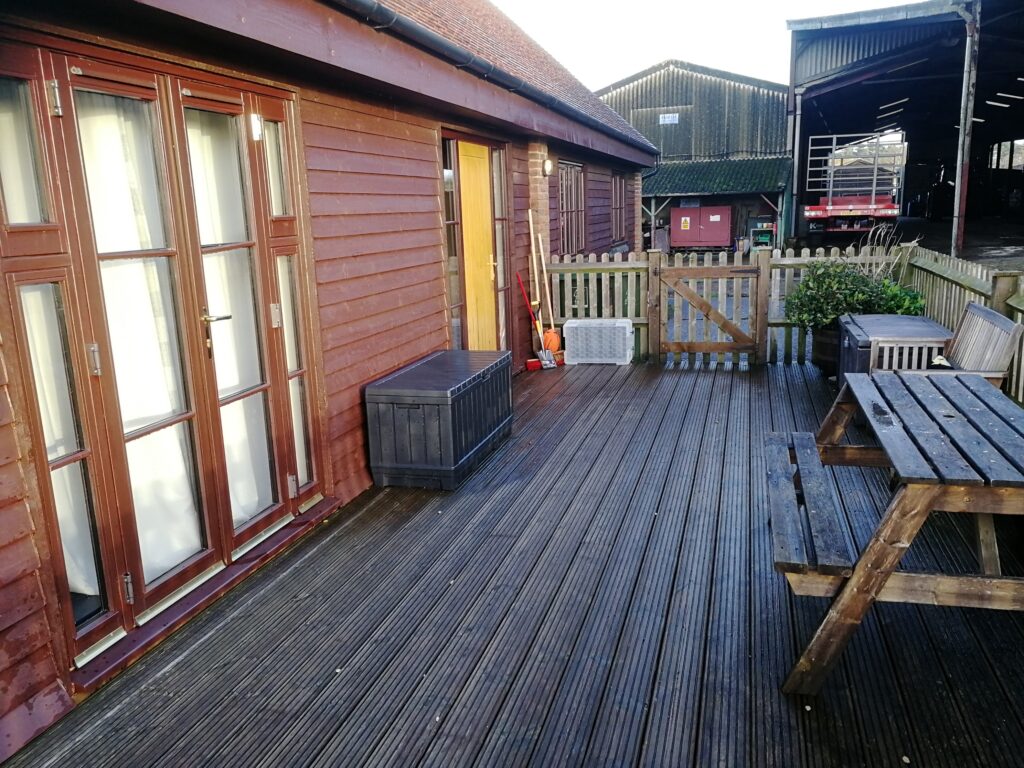 This is a stone-built barn, originally constructed in 1899, built as a cartshed it had become redundant as modern equipment became bigger and in recent decades had been used to store wood. During the summer of 2012 we spent 4 months converting it to provide holiday accommodation for 4 people with 2 bedrooms and 2 bathrooms, with all the accommodation on the ground floor.  The living area is open plan with views south to the Chilterns, and there is a private decked area for use by our guests and plenty of parking.  One bedroom contains a king-size bed, and the other has twin beds.  There are power-showers in both bathrooms, one shower is full accessible with seat and bars. The kitchen contains an electric hob, full-size double oven, and a full size dishwasher, and there are washing machines with drying facilities in a separate laundry room.
Check in 15:00 – 19:00,  Checkout before 10:00.
Minimum Stay one week
No smoking or vaping inside the cottage
No pets (except for assistance)
There is a gas and a charcoal BBQ available to borrow, please ask.
Bed linen and towels are adequate for a stay of 1 week, they will be
changed if your stay is longer than a week. If you require a change
before this, then please let us know.
Washing machines are in the laundry room, next to the back door of Dovehouse Farm. There is a washing line for your use, the laundry room is also a drying room, and you can use the airing racks in there.
Carbon monoxide alarm, Smoke alarm
The Ploughshed: £840 per week (£700 +20% VAT) 
Absolutely fabulous, we will be back, the best self-catering accommodation we have known. Thankyou again for a great stay
5 star plus, comfortable and well equipped, we came to see the Red Kites and they gave an excellent performance and more.
A lovely restful place to stay for a few days while visiting our daughter and to celebrate our grand-daughter's 5th birthday.
Calendar & Prices
8
Prices
Minimum booking:
7 nights
General price:
£

120.00 / night
9
Prices
Minimum booking:
7 nights
General price:
£

120.00 / night
10
Prices
Minimum booking:
7 nights
General price:
£

120.00 / night
11
Prices
Minimum booking:
7 nights
General price:
£

120.00 / night
12
Prices
Minimum booking:
7 nights
General price:
£

120.00 / night
13
Prices
Minimum booking:
7 nights
General price:
£

120.00 / night
14
Prices
Minimum booking:
7 nights
General price:
£

120.00 / night
15
Prices
Minimum booking:
7 nights
General price:
£

120.00 / night
16
Prices
Minimum booking:
7 nights
General price:
£

120.00 / night
17
Prices
Minimum booking:
7 nights
General price:
£

120.00 / night
18
Prices
Minimum booking:
7 nights
General price:
£

120.00 / night
19
Prices
Minimum booking:
7 nights
General price:
£

120.00 / night
20
Prices
Minimum booking:
7 nights
General price:
£

120.00 / night
21
Prices
Minimum booking:
7 nights
General price:
£

120.00 / night
22
Prices
Minimum booking:
7 nights
General price:
£

120.00 / night
23
Prices
Minimum booking:
7 nights
General price:
£

120.00 / night
24
Prices
Minimum booking:
7 nights
General price:
£

120.00 / night
25
Prices
Minimum booking:
7 nights
General price:
£

120.00 / night
26
Prices
Minimum booking:
7 nights
General price:
£

120.00 / night
27
Prices
Minimum booking:
7 nights
General price:
£

120.00 / night
28
Prices
Minimum booking:
7 nights
General price:
£

120.00 / night
29
Prices
Minimum booking:
7 nights
General price:
£

120.00 / night
30
Prices
Minimum booking:
7 nights
General price:
£

120.00 / night
31
Prices
Minimum booking:
7 nights
General price:
£

120.00 / night
Map